This April I had the pleasure and honour of reading a short story collection written by a Japanese writer Fumiko Hayashi and newly translated in English by J.D. Wisgo. The five stories in this collection were beautiful, unique gems that deserve a post of their own, and I simply couldn't resist sharing some beautiful quotes here.
Childe Hassam, The Sonata, 1911
"Returning to Tokyo after a long summer break, Tanimura left his guest house on the outskirts of the city and moved to another one that he discovered on a backstreet near a school.
Gone were the days of opening a window in the morning and looking out at an oak forest, or listening to the piano played by a beautiful girl in the bungalow next door; now when he opened his window in the evening, the dim lights of the city sparkled and the autumn scenery of Tokyo was an utterly refreshing sight for his eyes, filling his chest with great pride in being able to live in such a metropolis." (The Tale of the Seishukan Guest House)
It is no secret that I am a massive fan of Japanese literature, there is a certain indescribable sensibility of introspection and sadness, passion from within mingled with external silence, that lingers throughout different novels by different Japanese authors which I just adore! So, naturally, even before I started reading this short story collection, I knew it would be my cup of tea. Fumiko Hayashi (1903-1951) was a Japanese novelist and poet who produced her main works in the 1930s and 1940s. I read that in her work Hayashi often put an emphasis on free spirited female characters and troubled relationships. While I cannot state this with certainty because I haven't read any of her other works, I can say that this quality shines though in some of these stories. I read these stories slowly, to truly savour them, and after I would read one I thought to myself "oh this one is my favourite", and then I would proceed to read another one and would end up with the same thought. All five are so unique and beautiful and it's difficult to chose.
Fumiko Hayashi, 1924
"The Tale of the Seishukan Guest House" is the first story and it has a mysterious mood which I loved. It's about a young student Tanimura and his stay at the guest house, meeting a beautiful mysterious woman and falling in love for the first time. At times the story had a Kafkaesque mood of mystery, and at times Tanimura's obsession with a hair strand and his reaction to things was rather amusing. I loved the contrast of Tanimura's pleasant memories of days back home with the shining lights of the big city, both scary and promising. "Downfall" follows a young woman who moved from the countryside to Tokyo just after the end of the war to find employment, but instead of a secure job and success, she ends up in all sort of crazy situations.
Picture by @gill.hen on Instagram
"Employment" struck a chord with me in particular because the main character is a frail yet mischievous young girl called Sakiko whose idealist, naive view of the world is in contrast to that of her peers who are already planning their lives out; job, career, marriage. Even from the beginning, Sakiko is behaving in a carefree and childlike way, and I feel like that is her form of rebellion against the constricting world of adulthood:
"She didn't understand why she was so angry. Sitting upon the roots of a pine tree, Sakiko gathered pebbles from the ground and screamed out as she tossed them towards the ocean, throwing like a boy. The pebbles only went a short way before falling onto the nearby sand with a dull thud. On the winter seashore, strong gusts of wind blew in occasionally from the distance. Despite there being no clouds in sight, soft beams of light fell from the sky onto the beach, like scattered needles. Sakiko fell down abruptly onto the sandy ground, rolling around and kicking up bits of dry sand like a dog thrashing about. The sand came in contact with her hot body at her neckline, her sleeves, and the hem of her skirt. The sensation of sand accumulating on her sweaty body felt good. Eventually she thrust out her chest and poured dry sand all over it. The sand smelled of salty seawater."
Fujishima Takeji (1867-1943), The Sea at Sunrise, date unknown
I love the conversation between Sakiko and Ken'ichi which shows differences between their characters and I can really understand how Sakiko feels:
"Everyone is going to graduate college, get a job, find a wife without falling in love, have children, and live happily ever after, right?"
"Alright, that's enough…Saki, inside your head you're imagining all sorts of things, giving punishments and rewards to people as you desire…I think maybe that, in the end, the most natural way for us to spend our days is just living an ordinary life…You know, I think you've been reading far too many books. (…) But when you get irritated, everyone around you does too. Yesterday, you brought in all that sand, remember? I like the innocent Saki much better…and I think simply getting a job, getting married, and living out one's days peacefully is more than enough…"
"Oh, how dreadful! I can't stand close-minded young people like you with your dried-up adolescence…"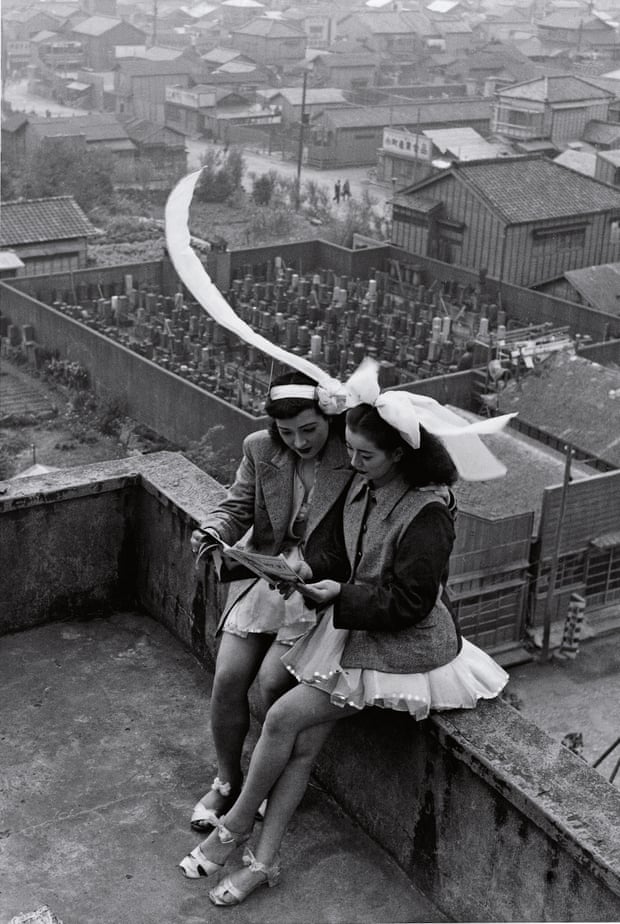 Dancers resting on the rooftop of the SKD Theatre Asakusa, Tokyo, 1949, Photo by Takeyoshi Tanuma.

"Consolation" had an air of sadness from start to finish and even though the theme of ruined post-war Tokyo and starving, lost, sad individuals was dreary, there were some quotes that stayed in my mind. "The beautiful city of Tokyo has gone through a series of shocking changes, the day-to-day activities of the dejected metropolis shattered into a million pieces, like myriad unfulfilled dreams. Stricken by the terrible memories of a long, hard war, wrinkles marred the faces of every person on the streets, even the younger folk, their vacant expressions a mixture of bitterness and disappointment." It's about a sad old man who spends his days finding food, reminiscing about old, better days, and just trying to survive the chaos all around him. I really loved this thought: "For me all that remains is simply living… After everything that's happened, I have no desire to end my life. I don't think I'm better off in the grave just because I'm lonely and alone. I'm terribly fortunate that I've never thought about anything like that. Spending our days doing nothing but eating steamed potatoes and sleeping like logs, it's hard to believe us humans are the supreme beings of creation, don't you agree?"
More than themes of the stories, I enjoyed Hayashi's writing style. It's so beautiful yet cuts to the point. I felt like no sentence was unnecessary, and that she never wrote something to show off her writing and bring focus to her skill. Everything was very lyrical and very convincing, she really brought the character's emotions, personality and struggles of the moment . Sometimes, a single sentence was so beautiful and conveyed so much, for example "It was a beautiful autumn night, the scent of the rain lingering in the air" (The Tale of the Seishukan Guest House), and "With cheerless facial features like those of a Kyoto doll, her pale skin had an oddly miserable appearance." (Employment) All in all, if you love short stories and Japanese literature, I am sure you will enjoy these shorts stories. You can check out the translator's word on his blog and Goodreads page.