My favourite poem by the Romantic poet Percy Bysshe Shelley, "Love's Philosophy", was published on the 22nd December 1819. I cannot believe that this gem of a poem is 200 years old, yet it feels so youthful and fresh, like the first clear skies in spring. English critic and poet Leigh Hunt published the poem in the 22nd December 1819 issue of the newspapers "The Indicator", which he edited from 1819 to 1821. Then later, in 1824, Mary Shelley published the poem again in the "Posthumous Poems". The beautiful, innocent mood of the poem was inspired by the poems of the Greek poet Anacreon which celebrated love. The second generation of Romantic poets; Shelley, John Keats and Lord Byron, looked up to the Classical world, the Romans and the Greeks, for inspiration, wisdom and Beauty.
Jean-Honoré Fragonard is well-known for his paintings of stolen kisses, secret meetings, coquetry, indolence and frivolities in romantic garden settings, but this painting here, called "The Souvenir" is announcing the Romantic vibes which took over the European art in the late eighteenth century. The girl is alone in the woods, carving the name of her Beloved in the tree so every living creature in the nature can know the secret of her heart. Her pet dog, usually seen as a symbol of fidelity in art, is observing her. Look how pretty her pink dress is, and how delicate the whole scene is. I can imagine this girl would love Percy Shelley's poem.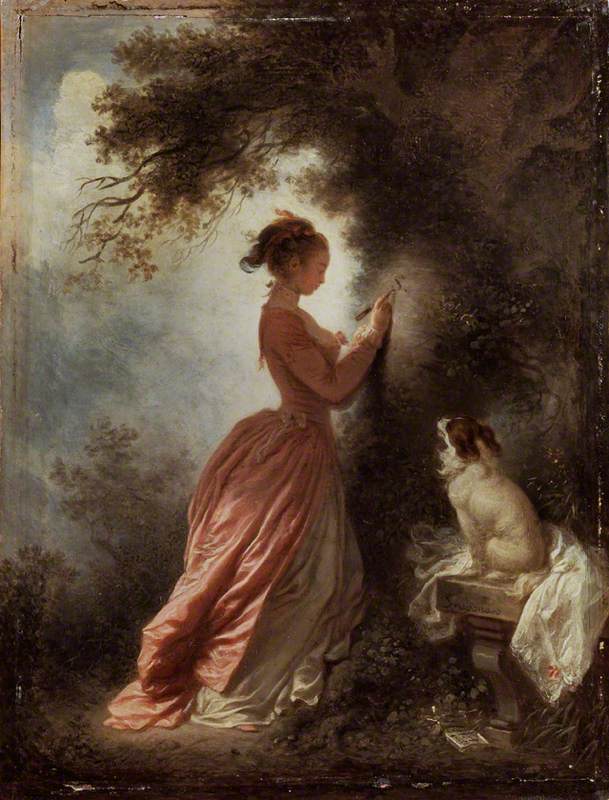 Jean-Honoré Fragonard, The Souvenir, 1776-8
Love's Philosophy
The fountains mingle with the river,
And the rivers with the ocean;
The winds of heaven mix forever
With a sweet emotion;
Nothing in the world is single;
All things by a law divine
In one another's being mingle-
Why not I with thine?
See, the mountains kiss high heaven,
And the waves clasp one another;
No sister flower could be forgiven
If it disdained its brother;
And the sunlight clasps the earth,
And the moonbeams kiss the sea; –
What are all these kissings worth,
If thou kiss not me?