"Sad; so sad, those smoky-rose, smoky-mauve evenings of late autumn, sad enough to pierce the heart…anguish of the turn of the year, the time of impotent yearning, the inconsolable season." (Angela Carter, Saints and Strangers)
Caspar David Friedrich, Wanderer Above the Sea of Fog, 1818
In these lonely autumn evenings, I yearn to escape the enveloping dreariness of November through poetry, pressed flowers and scented candles. Suffocated by thick fogs and the smell of rotting corpses of daydreams and high hopes that never come true, I hear Melancholy quietly knocking on my door and silently, without disturbing the yellow roses in my vase, it wrapped my tired shoulders with a fragrant lace cloth of spring naivety and summer innocence, of silver dandelions and spider webs, white roses and kindness of strangers. I try to smile at this stranger dressed in a purple gown and jangling earrings of silver and amethyst, but my lips of a doll have become rusty. I take the imaginary book of memories in my hand and blow away the dust. A few rose petals fall on the floor, and my crystal tears join them in their fall. Memories of summer's gold and bloom dance in my head like skeletons, memories of things that were painfully beautiful but might never return. Memories of poppy meadows and river's cheerful murmurs, of May's pink roses, white butterflies and forest groves, of golden sunlight and juicy pears, of stars and perpetually dreamy days of July, and long warm enchantingly golden afternoons of August. I have a withered rose instead of a heart, and it pulsates melodiously in a rhythm of yearning and anguish. I am a forgotten abbey in the oakwood; all my hopes have fallen like leaves on the trees and my soul is but a skeleton covered in moss. I take a pen and command: Melancholy, oh speak to me!
Caspar David Friedrich, Moonrise Over the Sea, 1822
Melancholy is kind and generous, and since I begged her, she spoke to me in a mellifluous voice of all the places where she resides… First thou shall find me, said Melancholy, in ethereal sounds of Chopin's Nocturnes, whose trembling ecstasies and passions lie hidden under flimsy veils of sadness. As Oscar Wilde said: "After playing Chopin, I feel as if I had been weeping over sins that I had never committed, and mourning over tragedies that were not my own. Music always seems to me to produce that effect. It creates for one a past of which one has been ignorant, and fills one with a sense of sorrows that have been hidden from one's tears." When Chopin's Nocturne turns to mute silence of dreary chambers, I dance my way to beautiful objects and inhabit them; old ballet slippers, worn out lamé dresses of 1920s, a box of old letters and photographs, empty perfume bottles, dusty cradles of children who are now adults, summer dusks with fireflies and strong scent of roses and a pale moon appearing coyly on the horizon, worn out names on tombstones and graves that no one visits any more, flowers slowly withering in a vase, unfinished charcoal drawings, drafts of letters never finished, smell of old books… Every place of beauty is my abode, ye can find me in poetry and songs too; in vocals and wistful violins of the Tindersticks and their song Travelling Light:
"There are places I don't remember
There are times and days, they mean nothing to me
I've been looking through some of them old pictures
They don't serve to jog my memory
I'm not waking in the morning, staring at the walls these days
I'm not getting out the boxes, spread all over the floor
I've been looking through some of them old pictures
Those faces they mean nothing to me no more"
Caspar David Friedrich, Abtei im Eichwald (Abbey in the Oakwood), 1808-1810
I closed my eyes and listened to Melancholy as it spoke to me, with a voice like flowing honey, and she said: I hide in canvases too; German Romantic painter Caspar David Friedrich adored me as his muse. Do not believe his landscapes, they are not at all what they seem; a tree is not a tree and fog is not simply fog as it is with John Constable. Led by his pantheistic vision of nature, he portrayed emotions and his states of mind. "Abbey in the Oakwood" is a melancholic masterpiece. An abandoned Gothic abbey is a corpse, a ruin, which speaks of happier times when it served its purpose. Tall oaks with crooked bare branches surround it. Sublime, eerie mood pervades the painting; crosses disappearing into the fog, a barely noticeable procession of monks, a freshly dug grave, and the endlessly lead coloured sky. In early 19th century Germany, Romanticism was closely associated with the National awakening, and Goethe considered Gothic architecture to be Germanic in origin. In contrast to the Classical architecture, the plans of Gothic cathedrals were done by "romantic intuition" rather than mathematical calculations. Gothic abbeys and oaks possess the same grandeur, the same melancholy when covered in deep snow or grey fogs.
I am not always obvious at first sight; do not let the screaming ecstatic yellow of Vincent van Gogh and Kirchner deceive you, for I was their friend too. I was the pencil that Egon Schiele used to sketch his nude beauties with worn out smiles and hollow cheeks, I kissed every yellow petal of the sunflowers he was obsessed with.
Egon Schiele, Sunflower, 1909
As I wipe my tears and feel my cheek's returning rosy hue, I eagerly listen to Melancholy and her story. She says: I was the lover of John Keats, and the illness of young Werther. All artists find a muse in me, and Romanticists loved me deeply, but the idealist and dreamy escapist Keats adored me in particular, and dressed himself in my cloth of flowers, tears and beauty. In his rosy-coloured visions of the Middle Ages, he found beauty that the world of reality had denied him. Keats knew when he sang of me that Beauty is my other face, and he knew my strength well enough so he never tried to defeat me but rather embrace me and heal the sorrow I cause by contemplating things of Beauty:
"But when the melancholy fit shall fall
Sudden from heaven like a weeping cloud,
That fosters the droop-headed flowers all,
And hides the green hill in an April shroud;
Then glut thy sorrow on a morning rose,
Or on the rainbow of the salt sand-wave,
Or on the wealth of globed peonies;
Or if thy mistress some rich anger shows,
Emprison her soft hand, and let her rave,
And feed deep, deep upon her peerless eyes.
*
She dwells with Beauty—Beauty that must die;
And Joy, whose hand is ever at his lips
Bidding adieu; and aching Pleasure nigh,
Turning to poison while the bee-mouth sips:
Ay, in the very temple of Delight
Veil'd Melancholy has her sovran shrine…"
Percy Bysshe Shelley confided in me too, but found me too bitter at times, and yet he wrote these verses: "Our sweetest songs are those that tell of saddest thought."
Photo by Laura Makabresku

John Singer Sargent, Polly Barnard (also known as study for Carnation, Lily, Lily, Rose), 1885, Medium: pencil
Photo by Laura Makabresku
"There is a life and there is a death, and there are beauty and melancholy between." (Albert Camus)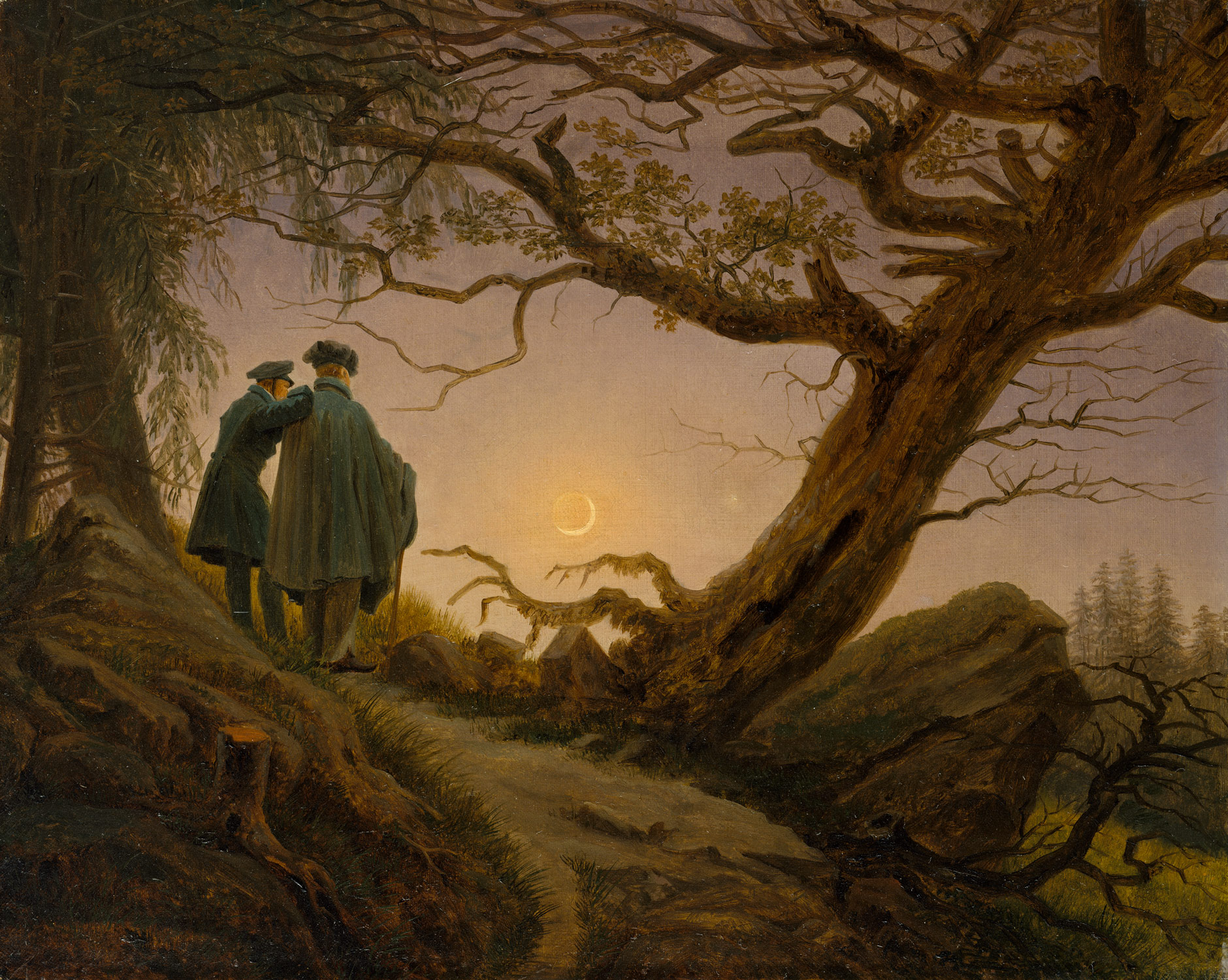 Caspar David Friedrich, Two Men Contemplating the Moon, 1825-30
Caspar David Friedrich, A Walk at Dusk (detail), ca.1830-35
In November dreariness, my only consolation lies in long evening walks by the river. The Moon is my lover; I year for his caresses and weep at sunset when we must part. He greets me, smiling through the bare branches of tall trees, and I turn my face to his glow and whisperingly ask to fulfil all my longings, to kiss my cheeks and hug me. I hear the river murmuring of happier times, but the Moon is wise and he offers me a "nepenthe". 'What is it?', I ask the Moon and he replies: 'It is an ancient Greek word, defined as a medicine for sorrow. It can be a place, person or thing, which can aid in forgetting your pain and suffering.' I follow the Moon, yearning for a more precise answer, but it disappears behind the clouds and I am left alone … yet again.
Photo by Laura Makabresku
I gaze at the river for a long time, longing to see the Moon's whimsical silvery reflection in the dark water. I cup the dark water in my hands and the dazzling rays of moon slip through my fingers… just as every happy moment does.