Today let's take a look at three gorgeous portraits of little girls by John Everett Millais, James Jebusa Shannon and Joaquín Sorolla inspired by the paintings of Diego Velázquez's, mainly the painting "Las Meninas" from 1656 but also some of his other portraits of Infanta Maria Teresa.
John Everett Millais, Souvenir of Velázquez, 1868
Just like Infanta Margaret Theresa from Velázquez's painting "Las Meninas" (1656), the girl in Millais' painting is a serious young lady. Two centuries divide the lives of these two moody girls, yet I am sure they would understand each other and could gleefully spend many idle hours giggling and chatting. Millais' sweet, round faced girl has a pale skin and masses of strawberry blonde hair that are a stark contrast to the darkness of the background. Unlike Infanta Margaret Theresa, this girl is all alone on the canvas. Her face looks like many other from Millais' canvases, yet her attire is noticeably different from that of any other Victorian girl. This was Millais' homage to a very famous Baroque painting made by Diego Velázquez, the court painter of Philip IV, in 1656. But Millais used a Pre-Raphaelite colour palette and the brush strokes on the hair and details of the dress are particularly loose, unrestrained and confident. Millais was apparently so skillful a painter that he was able to paint a leaf in a few brushstrokes and achieve the liveliness and accuracy. I think these strokes are a proof of that.
Diego Velázquez, Las Meninas, 1656, detail
Velázquez's position as a court painter clearly placed him in a subservient position to the members of the royal family. In his time, he was just a painter and they were the grand and powerful Habsburgs and yet, looking back in time, it is Velázquez who is famous and praised now for his art and little Infanta is just one in a row of royal princesses who would scarcely be remembered today if she wasn't captured on canvas so many times and in such beautiful and memorable paintings. It is a good thing that Velázquez painted so many beautiful portraits of her as a child because those were her glory days in a way; she married at the age of fifteen to Leopold I, and she was both his niece and his first cousin, and died at the age of twenty-one, after giving birth to four children and being pregnant with the fifth. So, if it wasn't for these glorious portraits and especially the very much loved and enigmatic "Las Meninas" where she is the central figure, she would have been forgotten in history, she would have been just another pale sickly girl who died very young from this illness or another, childbirth or smallpox, nothing special. But because of art, she is eternal. Even now, four centuries later, she is the blue eyed girl looking back at us, with her hair combed on the side and adorned with a bow, in her wide dress, so large for her small fragile body.
Diego Velázquez, Portrait of Infanta Margarita Teresa in silver dress, 1656
James Jebusa Shannon, Portrait of a Little Girl Holding a Toy (Kitty in a fancy dress), 1895
Next example is James Jebusa Shannon's lovely portrait of his daughter Katherine Marjorie known as Kitty who was eight years old at the time this was painted. The portrait is beautifully cropped and focuses on the little girl in the moment of childlike playfulness; she is holding a doll in each hand. Still in the world of dreams and make-beliefs, her dolls are her friends. Loose brushstrokes and a colour palette of subtle colours such as white and grey, with touches of pink and red perfectly fit the at once playful and dreamy mood of the painting. Maybe Kitty is lost in the dreamland playing with her dolls and she can scarcely notice that her father is painting her once again, for she was his dear model, but her cheeks are rosy and she is smiling and we can tell she is a happier girl than Velázquez's Infanta Margaret Theresa was in her constricted dress and constricting environment of the Spanish court. The dress Kitty is wearing resembles the one Velázquez painted, but it is only a fancy dress and life is still a game for Kitty as well.
Joaquín Sorolla, María Figuero dressed as a menina, 1901
And the last example I will be talking about in this post is an unfinished work by a Spanish painter Joaquín Sorolla which shows a girl dressed in an attire of the Infanta Margaret Theresa and the kind of dress that would be worn by other noble girls at the court. Just like Kitty in the previous picture, María was eight years old when this was painted and she was not just any child; she was the daughter of Sorolla's friend Rodrigo de Figueroa y Torres, Marquis of Gauna and later a Duke of Tovar also. Inspiration for this painting was not Velázquez himself, but his pupil Juan Bautista Martínez del Mazo's portrait of Infanta Margaret Theresa in a pink dress from 1660. Just like in the portrait of Infanta, María Figuero is wearing a very wide dress which fills the canvas horizontally, the sleeves are equally puffy and there is a pink decoration on the bodice. Her hair also resembles the hairstyle Infanta Margarita wore in some of her other portraits, for example the portrait in blue by Velázquez painted in 1659.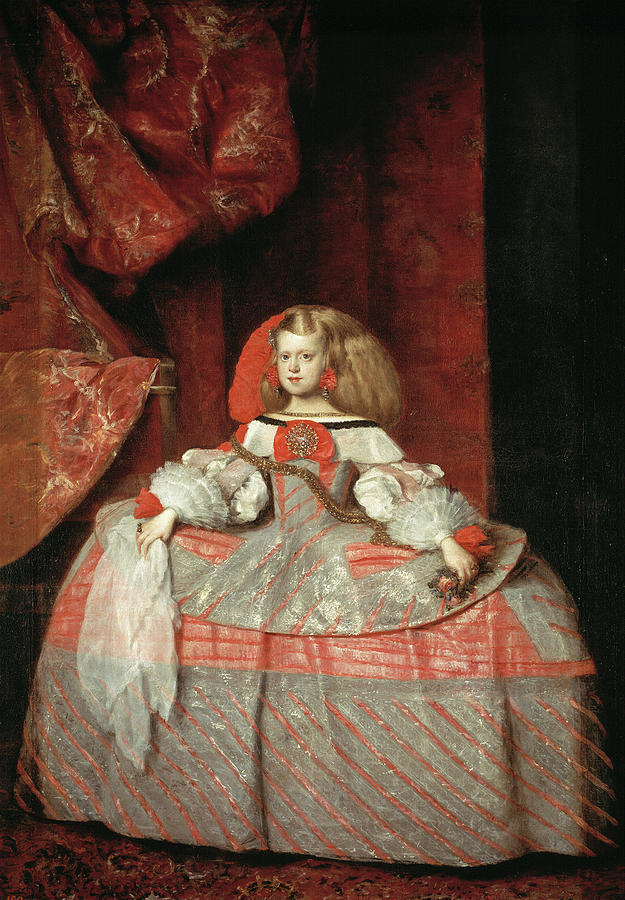 Juan Bautista del Mazo, Infanta Margarita Teresa in a Pink Dress, 1660