Tag Archives: groovy
28
Feb
My biggest discovery this month was the Symbolist painter Gustav Adolf Mossa and I am still smitten with his fascinating watercolours of skeletons, passion, blood, saints and flowers, I also enjoyed the beautiful, vibrant and dreamy flower paintings by Odilon Redon, Jean-Louis Forain's paintings of ballerinas and their admirers, theme of transience which I explored through the art of Juan de Valdés Leal's painting "In ictu oculi" and let me quote Pedro Calderón de la Barca's play "Life is a Dream": "What is life? A madness. What is life? An illusion, a shadow, a story. And the greatest good is little enough: for all life is a dream, and dreams themselves are only dreams." As you have seen from my fashion inspiration post, I have been into the 1990s fashion and that's mainly because I've been watching (again) the show Beverly Hills 90210 but only the first four seasons, I don't care for the show after Brenda leaves. Early in the show Brenda sometimes annoys me, but in season four she is just wonderful. Here's a poem by Jack Grapes that Dylan recited in the show in season four at a poetry reading class:
"With you, the earth was a bed of grass
We slept in it like two seeds
With you, I was more than I am
Your mouth, the sun
Made everything possible
I burn with the love that I lost
When I lost you."
"You know, it's quite a job starting to love somebody. You have to have energy, generosity, blindness. There is even a moment, in the very beginning, when you have to jump across a precipice: if you think about it you don't do it. I know I'll never jump again."
(Jean-Paul Sartre, Nausea)
Los Angeles, picture found here.
Picture found here.
Los Angeles, 4th July 2020, picture found here.
Picture found here.
Watercolour found here.
Vladimir Mayakovsky, A Letter written to his sister Ludmila, 1905
liberty.mai instagram
13
Oct
I love autumn for its richness, warm colours, falling leaves and its mystery, at the same time I loathe it because it's the doorway to months of quiet, grey dreariness and winter's misery. Whether you love autumn or hate it, I feel that no other season of the year has the power to touch us in such a peculiar and poignant way. Anguish of transience weighs on my soul as I gaze at the leaves falling down and the trees becoming more bare as each day passes. There's something final about it, a sense of ending… No other season has such bittersweet duality; golden afternoons and dark overcast days, leaves rustling under foot and morbid silence of a hard, dry soil; the last ecstasy of colours and sights, and the most dreary sense of an end.
George Bellows, Romance of Autumn, 1916
George Bellows is mostly remembered in relation to the Ashcan group of artists and he was known for portraying the grim reality of the big city, but his painting "Romance of Autumn" is intensely vibrant and groovy and brings out this whimsical, warm side of autumn. The painting shows a woman in white and a man in blue climbing over the rocks and in front of their eyes a magical landscape painted int the most exquisite, intense, uplifting, electrifying magical colours; purples, electric blue, pink, orange and blue. Each colours shines and smiles as in a dream. The gesture of the girl holding the man's hand seems symbolic; she is helping him climb up the rocks and see for himself the fantastical landscape that she is seeing, she is inviting him to step into the autumnal fantasy with her. This is the dream, this is the autumn seen through rose-tinted glasses.
O. Louis Guglielmi, Connecticut Autumn, 1937
Guglielmi was born in Cairo, spent his early childhood in Milano and Geneva, and in 1914 destiny took his over the ocean. His painting "Connecticut Autumn", painted in the depressing decade of 1930s, shows a very different face of autumn; the face of desolation, decay and poverty. Despite of their warm orange and yellow colours, the buildings beside the road look desolate and abandoned. The whole scene reeks of alienation, as if no human foot had stepped there for a long time. Unused blocks of marble lie around idly, useless and forgotten just like the town itself. No one needs monuments any more, nothing to celebrate and glorify. The figure of the angel is the only figure out of all the marble blocks. The thin trees in the distant edges of the painting look dead and unreal, and the young boy is the only living thing in this desolate landscape. His childhood innocence and naivety are a shield from reality. Decay and depression of his surroundings cannot touch him. He is flying his kite under the mournful gaze of the forgotten marble angel. But again the hope and optimism are crushed, for his kite gets tangled in the power lines. The sky is darkening and the angel is motionless and silent.
Marco Calderini (Italian, 1850-1941), Gardens of the Palazzo Reale, Turin, c. 1890-1910
This painting by an Italian painter Marco Calderini quite realistically portrays the loneliness of parks in autumn; when rains descend, the trees are bare, the skies are grey, and you can't even sit on a bench because it's wet so you linger around the desolate park, like a ghost, circling the statues and avoiding the puddles, and you cannot help but fantasise of the days, not so long ago, when the grass was green, the flowers bloomed and golden sunlight was coming through the lush tree tops. You cannot help but think of mortality and transience when you see that the trees are wet, dark and bare and the air is cold as the grave. Born, lived and died in Turin, Calderini's oeuvre is filled with romanticised landscapes with poetic moods. Painting "Gardens of the Palazzo Real" is at once realistic and poetic. This is exactly how parks and gardens look like after autumn rains, and yet no one can deny the romantic wistfulness and loneliness that the scene shows.
John Atkinson Grimshaw, Autumn Regrets, 1882
John Atkinson Grimshaw was a master of portraying cold, lonely autumn streets where golden light of the street lamps falls on the damp pavements, wetness and mists. The painting "Autumn Regrets" perfectly portrays the wistfulness of autumn and that "what's done is done" feeling. The woman is sitting on a bench, she is dressed in black and both her clothes and her pose speak of her deep thoughts and regrets. All around her the soil is being transformed into a golden-orange carpet of chestnut leaves. The wind seems to be whispering "This is the end, beautiful friend…" Regrets flood our hearts and minds so easily in autumn; we could have done more, and we could have done things better, or at least differently. But what is done is done, now the flowers bloom no more and every new leaf which falls from the tree is like a confirmation of the ending. Autumn has a way of getting under our skin, whether we like it or not. Autumn is a feeling, a state to be in, not just one of four seasons. And to end:
"This is the autumn: it — just breaks your heart!
Fly away! fly away! —
The sun crawls along the mountain
And rises and rises
And rests with every step.
How the world became so withered!
Upon worn, strained threads
The wind plays its song.
Hope fled…"

(Nietzsche, In the German November, 1884)
3
Jul
"Under neon loneliness, everlasting nothingness."
(Manic Street Preachers, Motorcycle Empintess.)
I recently stumbled upon these groovy photographs by a young French photographer Jean-Vincent Simonet and they instantly captivated me! This series of photographs, named "In Bloom" and indeed it is blooming with all sorts of vibrant colours, is a product of nocturnal wanderings through the busy streets of Tokyo and Osaka. But these photographs show the cities in a rather different view than most people walking the streets in those same evenings saw it. Vibrant colours melting into one another, slightly distorted shapes of buildings and streets, neon signs, purple skies and pink streets look like something out of a Sailor Moon anime, and also, for some reason, they remind me of the line "Under neon loneliness, everlasting nothingness" from the song "Motorcycle Emptiness" by the Welsh rock band Manic Street Preachers; the video for that song was also, coincidentally, filmed in Tokyo where the band is seen walking the streets, under the garish neon signs and shining promises of fun that the city has to offer, but their faces show alienation from all that garish world. Therefore, I see these photographs not only as psychedelic, bubbly and wild in colours, but also as a garishly coloured fantasy world of chaos and excitement which offers cheap dreams but nonetheless leaves one lonely and lost; I have never felt more lonely than when wondering the streets in the evening, seeing the glitter and neon lights and feeling complete emptiness and detachment from it all. But they can also be seen as presenting the magic of the night when anything seems possible and one can be whoever one wants; the dream is pulsating and alive until the faint grey light of dawn kills it. Simonet made prints of the photographs onto plastic paper then washed the photograph with chemicals and that is how he succeeded in creating images with such a psychedelic mood to portray his experience of Tokyo at night.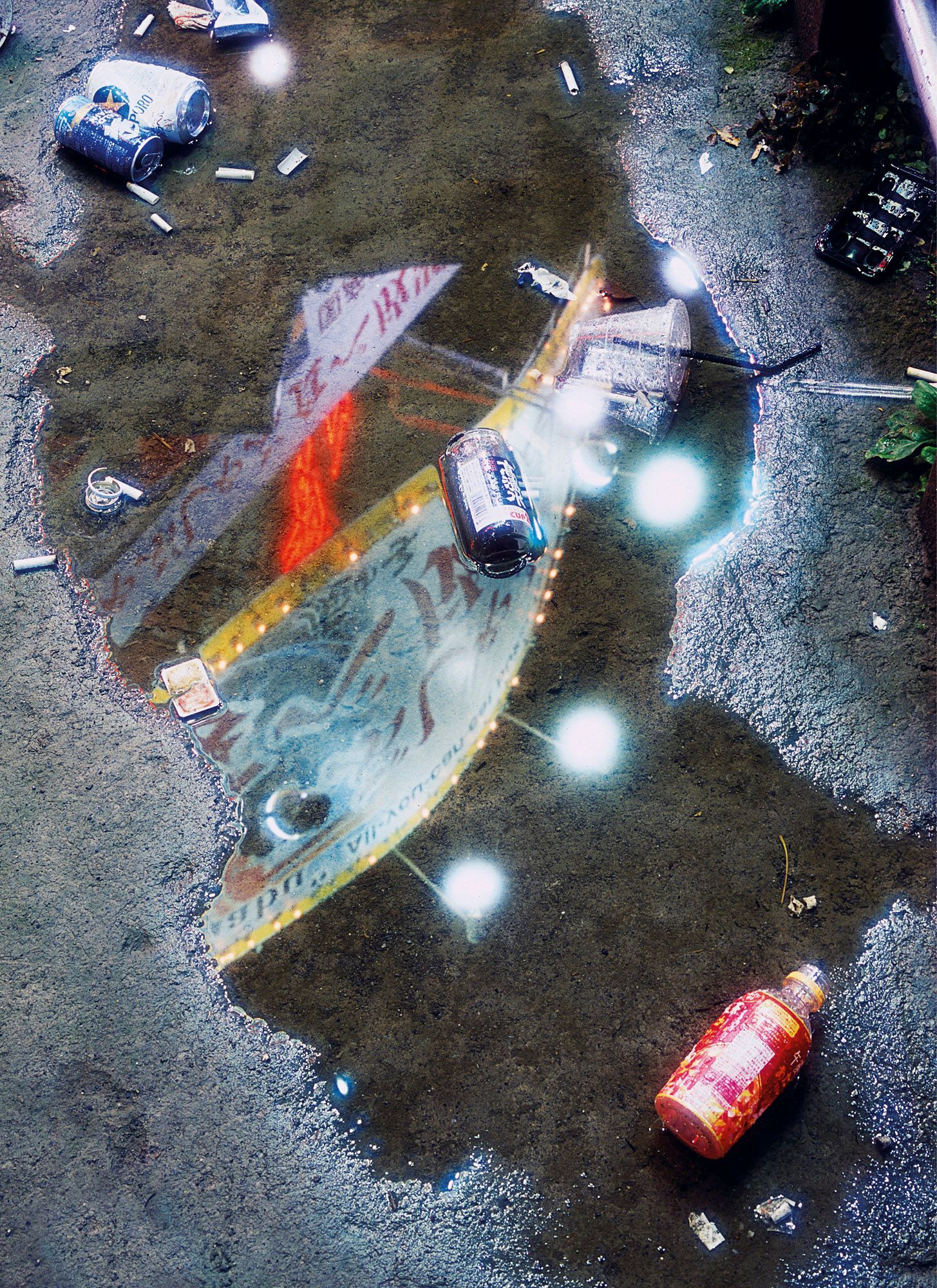 The photographer's page: https://www.jeanvincentsimonet.com/about