"We owe our humble gratitude to all practitioners of the arts, for they mellow the harshness of our human world and enrich the human heart."
(Soseki, The Three-Cornered World)
Joseph Mallord William Turner (1775-1851), Rain, Steam, and Speed – The Great Western Railway, 1844
One of my all time favourite novels is Natsume Soseki's "The Three-Cornered World" originally published in 1906. It is an oasis of calmness, wisdom and meditative thoughts on nature and art. The story is told in the first person by the main character, a nameless thirty-year old artist, a poet and a painter, who one day sets out on a journey to the mountains, in search of Beauty and the true meaning of art. He stays at a hot spring resort where he is the only guest. One moonlit night he hears a woman singing in the garden. This mysterious beauty, called Nami, captures his imagination, not in a romantic but in an artistic way. The simple plot where nothing much happens is great because the true beauty of the novel can shine through: the poetic, zen-like writing which transports the viewer in a meditative state. The original title of the book is "Kusamakura" which literally means "Grass Pillow", and the term in Japanese carries a symbolic meaning, implying a journey without a specific destination. Instead of dynamic events and exciting adventures, the narrator ponders on what it actually means to be an artist and the bliss of being in the state of inspiration:
"I suppose you could say that the artist is one who lives in a three-cornered world, in which the corner that the average person would call "common sense" has been sheared off from the ordinary four-square world that the normal inhabit. For this reason, be it in nature or in human affairs, the artist will see the glitter of priceless jewels of art in places where the common herd fears to tread. The vulgar mind terms it "romanticizing," but it is no such thing. In fact, the phenomenal world has always contained that scintillating radiance that artists find there. It's just that eyes blinded by worldly passions cannot see the true nature of reality. Inextricable entanglements bind us to everyday success and failure and by ardent hopes – and so we pass by unheeding, until a Turner reveals for us in his paintings the splendour of the steam train, or an Okyo gives us the beauty of the ghost."
Kobayashi Kiyochika, View of Takanawa Ushimachi under a Shrouded Moon, 1879
The narrator portrays the artist, himself included, as a person who is here to show others the beauty around them which they would otherwise be unaware of. The artist is the one who, through his art, tells people to stop and take a look at the wondrous, whimsical and beautiful things in the world around us. The narrator chose two interesting artists to illustrate his point; British Romanticist Turner and an eighteenth century Japanese Ukiyo-e artist Maruyama Okyo. I love it when novels reference other things, it's like a springboard from one source of inspiration to another. Turner's grandiose and awe-inspiring canvases, filled with golden lightness and dreamy mists, usually portray sunsets or historical events, but in the painting referenced by the narrator, "Rain, Steam, and Speed – The Great Western Railway", painted in 1844, near the very end of the painter's life, the subject is something completely modern and everyday; a train. Just imagine the excitement, awe and fear with which the Victorians looked at trains. I dare say I look at them at the same way too, even today. Trains are fascinatingly fast and frightening in their speed and yet they also seem vintage in some way because it seems more romantical to travel by train than by bus. Turner captured the train's speed and cloud of fog with the same brilliance that he had previously devoted himself to historical scenes, which shows that he approached two very different motifs with the same ardour and with the same patient search for beauty that any artist has. Soseki lived in England for two years, just before this novel was published and it's very likely he had seen this painting in person. I've also included here a Japanese artist Kiyochika's exploration of the train-motif in a more direct way than Turner, but still carrying its own beauty.
Maruyama Ōkyo (1733–1795), The Ghost of Oyuki, 1750

Another example the narrator gives is a painting of a ghost by the artist Maruyama Okyo. The narrator doesn't mention a specific painting, but with a little research makes it clear that Soseki is referring to Okyo's famous ink on silk painting which shows the female yurei or the traditional Japanese ghost of his lover Oyuki. It is a poignant portrait of a dead beloved which came from intense sadness and longing, almost a century before Poe wrote of similar themes in his poems and short stories. The ghost-girl Oyuki was Okyo's mistress who worked in the Tominaga Geisha house and died young. Looking at the dates, I see now that Okyo was just seventeen years old at the time, wow, what a deep, profound and melancholy gesture… This sad event must have shaped his life in one way or another, and it has certainly shaped the way the Japanese, even today, see a female ghost, as a creature in white clothes, pale face, dark hair falling like weeping willow branches and ending in faint, thin lines, and lower body and feet disappearing. So simple, yet so poignant and sweetly melancholy.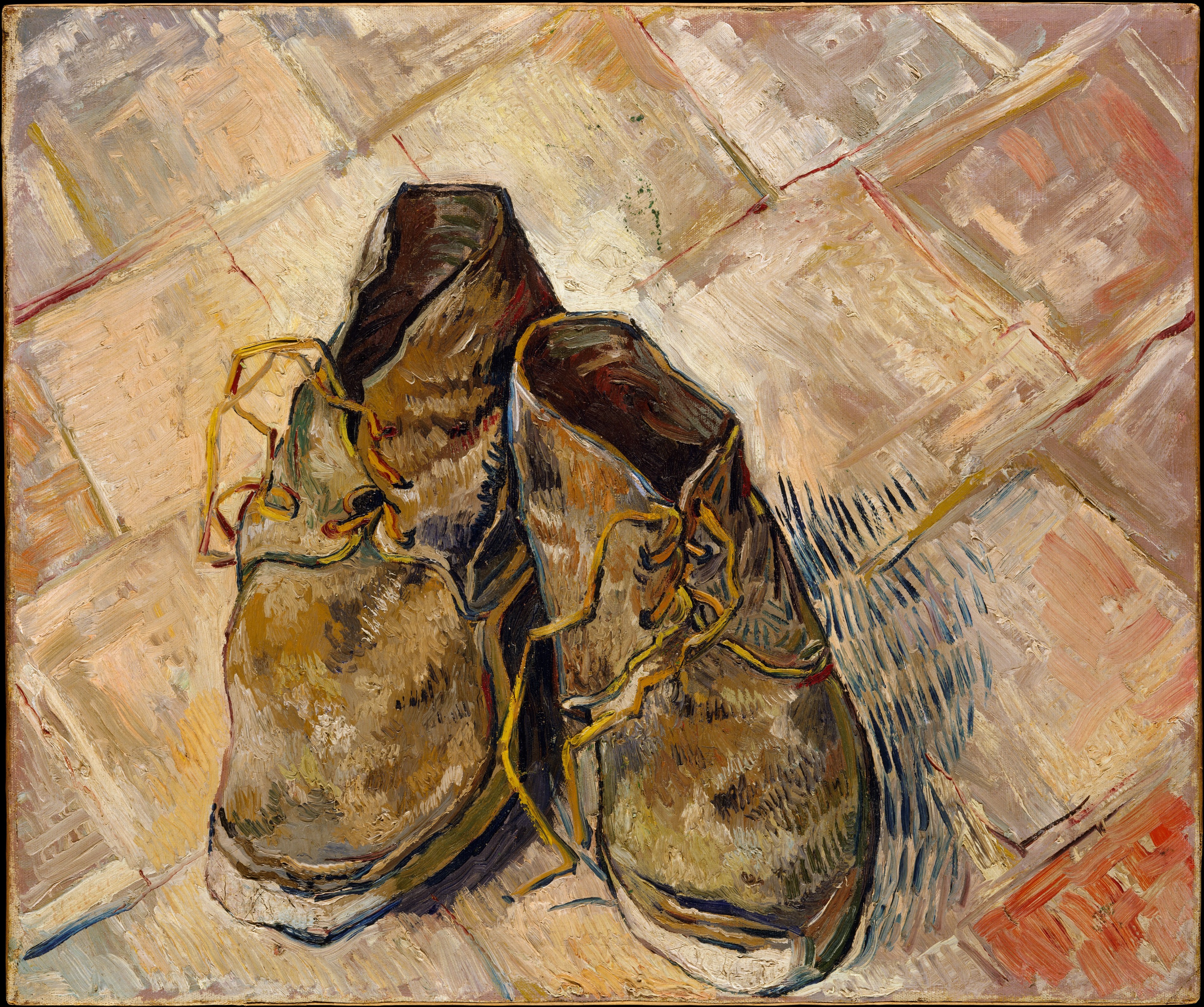 Vincent van Gogh, Shoes, 1888
Another example which isn't mentioned in the novel, but goes with the narrator's idea; Vincent van Gogh's "portrait" of his old, dirty, worn out shoes. The motif, when spoken out loud, seems laughable and not even remotely worthy of being painted, but van Gogh painted this pair of shoes with the same passionate approach that he had for his landscape, wheat fields and sunflowers, look at the careful brushwork and wild patches of colour. If Van Gogh didn't paint his old shoes as his artist mission to show us beauty around us, we would never have known just what beauty lies in them.