Egon Schiele's portrait of his wife Edith in a colourful striped dress is something quite unusual and new in his art, and her face, full of naivety, sweetness and innocence seems so out of place amongst his usual female portraits, nudes and half-nudes, with a decaying heroin chic appeal. Where did this change of style come from?
Egon Schiele, Portrait of Edith Schiele, the artist's wife, 1915
When I first saw this portrait, I loved the stripes on the dress for they seemed so alive, so intricate and colourful, and yet the quality of the colour is murky and earthy, as usual in Schiele's palette. I was also amused by her face expression, but my interest quickly turned to Schiele's alluring nudes. What can this portrait show us, apart from the fact that Edith loved wearing striped dresses? Well, it's a psychological study which shows us Edith's true personality. Let's say that her true colours shine through. Look at her – she looks awkward and artless, she is clumsy and doesn't know what to do with her hands, her eyes are wide open and eyebrows slightly raised, her lips are stretched in a weird, shy smile, as if she's in the spotlight but wants to get away, she's pretty but not exceptional, timid but not gloomy. Prior to marrying Schiele, Edith led quite a sheltered life, with her sister Adele and her conservative parents.
In Spring of 1914, Schiele noticed that there were two pretty young girls living just across his flat. Naturally interested, he started thinking of ways to meet them which was hard because the girls lived under the watchful eyes of their mother. They started waving each other through the window, and sometimes Schiele would paint a self-portrait and show it to them through the window. Surely by now, both Edith and Adele had dreamt of meeting that cheeky, arrogant but charming artist across the street. Schiele started sending them little notes, the content of which must have made Edith and Adele blush and giggle, but they never replied to any of them for a year. They met with Wally's help, and all four went to the theatre or cinema together. Needless to say that the cynical Schiele was interested in both girls, in fact, for some time he couldn't decide whether he wanted to marry Edith or Adele. Crazy situation, but luckily for him, it turned out that Adele wasn't really interested so he settled on Edith and they got married, despite the strong disapproval of her parents, on 17 June 1915, which was the anniversary of the marriage of Schiele's parents.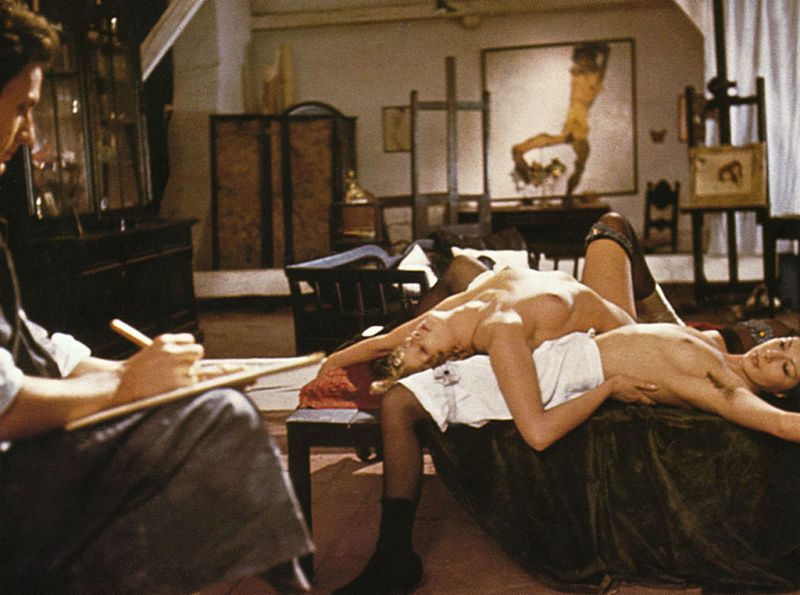 Scenes from 'Egon Schiele: Excess and Punishment' (1981)
I can understand why Edith liked Schiele, women always go for the bad guys; he was an artist, straightforward about what he wanted, he had a bad reputation and was once imprisoned for pornographic art, and, admit it or not, there's something romantic about criminals. What remains a mystery to me is why Schiele liked her? What could this timid, shy, proper and frightened girl had to offer him? Most importantly, what was it so appealing about Edith that the witty, funny street-wise, experienced Wally didn't have?
"We sense here the conflicting emotions that Edith must have caused in Schiele: a quiet pleasure in her innocence, a satisfaction with her selfless loyalty mixed with frustration at her lack of of sexual energy. Schiele makes her seem passive and whilst he found vulnerability attractive he must also have longed for those quite different qualities which Wally possessed in abundance: the kind of temperament and aggressive eroticism which made Schiele himself feel vulnerable."*
Edith was portrayed well in the film Egon Schiele: Excess and Punishment (1981). If I remember well, in one scene she's sitting in Schiele's lap and he shows her some of his erotic drawings, and she throws a quick shy glance, giggling and blushing, and you can see that she's at unease with the nude models in his studio, stretching in different poses. She wanted to pose for him so he wouldn't look at other women, but she just couldn't satisfy his artistic demands. Again, that's something that Wally did more than well.
Where did this wish to settle down, this wish for security come from? It seems like he wanted to indulge in a bourgeois life all of a sudden. Also, his decision to marry Edith and not Wally shows the double standards typical for men of his time; Wally was an artist's model, a position practically equal to that of a prostitute, and as much as he loved her aggressive eroticism, he still wanted his wife to be modest and chaste. In the portrait of Edith in a striped dress from the same year, again her shyness shines through. Look at her eyes, frightened like that of a delicate fawn in the forest glade, and her sloping shoulders, almost crouching under the weight of the artist's gaze, her hands in her lap; she looks like a child forced to sit still against its wish. Schiele always painted his middle-class wife modestly dressed, with a stiff collar and long sleeves, whereas looking at the pictures of Wally we know only of her petticoats, lingerie and stockings, not of her hats and dresses. Without a doubt, Edith loved Schiele, but she couldn't understand his art.
Egon Schiele, Portrait of Edith Schiele with striped dress, 1915
Their marriage didn't last long for they both died in that sad autumn of 1918. First World War had just ended, Spanish flu had taken many lives, amongst its victims were Edith who died six months pregnant on 28th October, and Schiele who died a few days later, on 31st October.
Everything that is sad, and occurs in autumn, gets imbued with an even greater sadness, but Autumn was Schiele's favourite season, he wrote 'I know there is much misery in our existence and because I find Autumn much more beautiful than every other season…. It fills the heart with grief and reminds us that we are but pilgrims on this earth…' He also wrote in his short lyrical autobiography: 'I often wept through half-closed eyes when Autumn came. When Spring arrived I dreamed of the universal music of life and then exulted in the glorious Summer and laughed when I painted the white Winter.' The fresh, new, dreamy Spring of his art is forever tied with the image of cheerful Wally in her stockings, forever smiling from the canvas, and so the Autumn of his art is tied with Edith's timid half smile and her striped dress. First symbolises his rapture, the latter his gloom, which Kundera later wrote in his book Slowness as two main characteristics of central European mentality. Rapture and gloom, life and death, Eros and Thanatos; all intertwined in Schiele's paintings.
___________________________
*Egon Schiele, Frank Whitford